Check out the new GCA Resource Center
The newly launched GCA Resource Center houses:
Recorded webinars
Frequently asked questions
Information about industry suppliers
Recorded Town Hall sessions
Industry Statistics
and more!
This is a brand new platform that our committees are hard at work populating with additional information. Is there something you'd like to see? Email us and let us know!
Join the Members-Only GCA Community to Share Resources, Advice, Connect, and Network
About Us
In an industry where we help people connect, we have never had a place for us to do the same. The GCA is committed to becoming the hub to create those connections.  Online, in person, through education and resources, together we can create and maintain the meaningful connections between all parts of this amazing industry.  In a world where all information is available but real answers are hard to find, the GCA Community will make a worldwide industry seem local.  It's like a Facebook Group, but better!
Why You Should Join Us
No matter what part of the community you represent, maker, sales, retailer or supplier, the GCA Community is a place for you to connect, discover new opportunities, learn and generally promote and celebrate the greeting card industry.
Join the GCA Community
Greeting Card Association Takes Top Honors at ASAE Power of A Summit Awards: Every Association has a Role in Advancing Diversity, Equity & Inclusion
At the annual American Society of Association Executive's (ASAE) Power of A Summit Awards dinner, the Greeting Card Association (GCA) was honored with the highest recognition, the Summit Award for Diversity & Inclusion for its Black Makers Pitch Program. The Summit Awards dinner is the premier event in the association industry which honors six award-winning programs that have made a significant impact in their community. Andrea Williams of Paisley Paper Co. accepted the award on behalf of GCA at the National Building Museum in Washington, DC.
In the midst of the overwhelming challenges of the COVID-19 pandemic came another painful reckoning for US society. Issues of racism and inequality were laid bare and no longer something that could be ignored or dismissed – the time had come when merely acknowledging the problem was recognized as insufficient. Some associations and industries spoke out, some stayed silent, and others found ways to push for solutions and changes. "The GCA Board of Directors recognized the need to take action, to genuinely welcome underrepresented members into the community, to showcase cards for diverse audiences, and to make an effort to uplift and empower black makers," says GCA Executive Director, Nora Weiser.
For New Companies
Starting a greeting card business can be relatively easy. But as your business grows, there is so much more you need to know.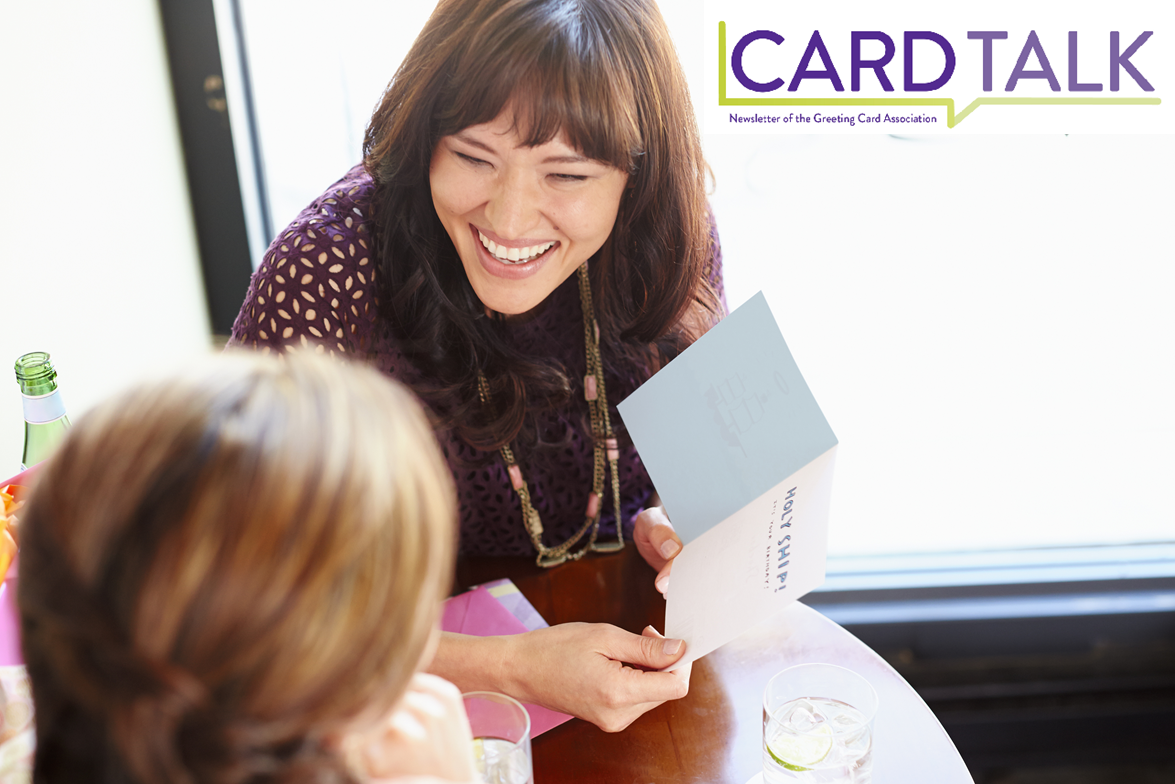 GCA's Card Talk
Read the latest edition of our newsletter, produced bi-monthly with content from and about GCA members and the industry.
*Noted: The Greeting Card Expo
*Noted is the only event in the U.S. built by the greeting card industry, for the greeting card industry and brought together over 150  publishers and retailer colleagues in Brooklyn, NY in 2019. 
Support the GCA 
Interested in how you can help recognize and support GCA members and the greeting card industry? The GCA offers a variety of advertising and sponsorship opportunities throughout the year. 
Industry Resources
The GCA and its leadership help members grow their businesses through education and mentorship; as a media source and in its advocacy representing the citizen mailer and the critical need for a independent, sustainable postal service.
Find a GCA member
The GCA's membership is as diverse as our industry, with established publishers, start-ups and suppliers from every region in the country and from around the world.
Looking for the Right Time to Join?
Now's the time. Smaller publishers can join the GCA now for as little as $395.00. Make the connections you need, and build your business.
Become a member
Find a member
Buy Stamps from the USPS
Help #BridgeSocialDistance and send greeting cards to your friends and family. You can purchase stamps directly from the U.S. Postal Service's website and have them delivered directly to your home. 
Exhibit at a *Noted Village
The "Village" is a great way for new and emerging companies to display their products at the NY NOW, Atlanta Market and more with low hassle, low cost, and high visibility.
Send a Greeting Card!
Looking for greeting cards? Many of our GCA members have their products available for purchase online. Search our member directory and find the perfect card(s) to send to your loved ones.